Compare Cheap Gas and Electricity Prices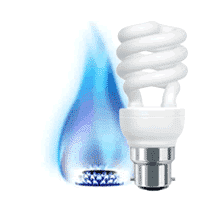 Looking for cheap gas and electricity prices? These days money is often tight, and many of us find ourselves struggling to make ends meet. More often than not gas and electricity bills contribute a huge expense to our lives. So we need to come up with ways to save money and also be able to use our energy when we need to.
The problem is that the tariff system, when it comes to gas and electricity bills, is rather complicated. Many of the bills you get through the door are estimated bills, not accurate ones. Furthermore, a lot of us pay too much because we're unaware of the best value rates available on the market. Well, the good news is that no longer has to be a problem for you going forward.
See, now you can make use of our energy comparison tool in order to find the best deals for you. With this, you'll be able to compare tariffs for all the UK suppliers of cheap gas and electricity. It will allow you to assess the new offers and energy saving deals and will compare what you already spend. You'll also find out important details that will help in the decision-making process. Also, you can find out as much as possible about the companies that offer green energy.
You'll be able to make use of our tool to compare the cheapest gas and electricity prices on the market. This will help you to come up with the most attractive offers and options to suit you and your household.
Want to make sure you pay a set rate for your bill over the next few years? No problem, we can help you with this. Do you fancy embracing green energy to be more eco-friendly? If so, we will assist you in this respect as well. How would you like to save yourself stress, time and energy by having your gas and electricity from one supplier? Well, the good news is there are plenty of opportunities to do that.
Put yourself in our capable hands, and we'll make the process much more straightforward for you. We will keep you up to date with the best deals for dual fuel, as well as gas and electricity individually. Don't accept your energy bills continually being raised. Take action now to make sure you get the best possible outcome. Take advantage of our user-friendly comparison tool, and decide the direction you'd like to take.
Gas and electricity are a vital part of the way we live our lives. So it's important to make sure we get the best deals for our tariffs. You need to ensure that you're making savings as much as you can and that you get the best long-term deal.